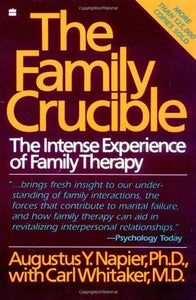 The Family Crucible: The Intense Experience of Family Therapy (Used Book) - Augustus Y. Napier, Carl A. Whitaker
The classic groundbreaking book on family therapy by acclaimed experts Augustus Y. Napier, Ph.D., and Carl Whitaker, M.D.

This extraordinary book presents scenarios of one family's therapy experience and explains what underlies each encounter. You will discover the general patterns that are common to all families—stress, polarization and escalation, scapegoating, triangulation, blaming, and the diffusion of identity—and you will gain a vivid understanding of the intriguing field of family therapy. 
Paperback
---