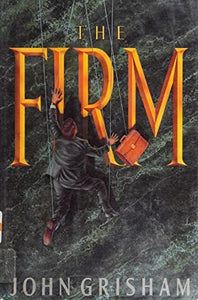 The Firm (Used Book) - John Grisham
Mitchell Y. McDeere has worked hard to get where he is: third in his class at Harvard Law. Aggressively recruited by all the top firms, and initially headed for Wall Street, Mitch surprises everyone by joining Bendini, Lambert £r Locke, a very private, very rich tax firm in Memphis. Mitch and his wife Abby move to Tennessee and quickly settle into their new life: they're young, happy, and on the fast track. Or so they think.

Soon, though, Mitch senses trouble: two of the partners die in a suspicious diving accident off Grand Cayman; the firm's management is overly proud of the fact that no one has ever resigned, and security measures at the firm are-even for a company with billionaire clients—more than a little stringent. Then, suddenly, Mitch's vague suspicions come to life. While eating alone at a nearby diner, he is approached by a man named Tarrance who claims to be with the FBI. Tarrance tells Mitch that the firm's "security" people have bugged his phone, his house, and probably his can that he is in great danger and should......
Hardcover
---