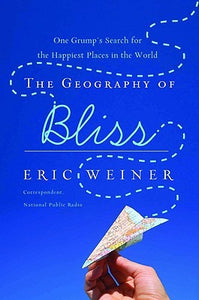 The Geography of Bliss (Used Book) - Eric Weiner
Weiner spent a decade as a foreign correspondent reporting from such discontented locales as Iraq, Afghanistan, and Indonesia. Unhappy people living in profoundly unstable states, he notes, inspire pathos and make for good copy, but not for good karma. So Weiner, admitted grump and self-help book aficionado, undertook a year's research to travel the globe, looking for the "unheralded happy places." The result is this book, equal parts laugh-out-loud funny and philosophical, a journey into both the definition of and the destination for true contentment.

Apparently, the happiest places on earth include, somewhat unexpectedly, Iceland, Bhutan, and India. Weiner also visits the country deemed most malcontent, Moldova, and finds real merit in the claim.

But the question remains: What makes people happy? Is it the freedom of the West or the myriad restrictions of Singapore? The simple ashrams of India or the glittering shopping malls of Qatar?
From the youthful drunkenness of Iceland to the despond of Slough, a sad but resilient town in Heathrow's flight path, Weiner offers wry yet profound observations about the way people relate to circumstance and fate.

Both revealing and inspirational, perhaps the best thing about this hilarious trip across four continents is that for the reader, the "geography of bliss" is wherever they happen to find themselves while reading it.
Hardcover
0706SR
---