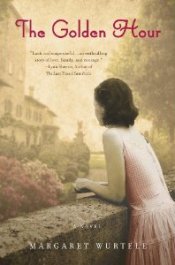 The Golden Hour (Used Book) - Margaret Wurtele
In this stunning debut set in the summer of 1944 in Tuscany, Giovanna Bellini, the daughter of a wealthy aristocrat and vineyard owner, has just turned seventeen and is on the cusp of adulthood. War bears down on her peaceful little village after the Italians sign a separate peace with the Allies-transforming the Germans into an occupying army.

But when her brother joins the Resistance, he asks Giovanna to hide a badly wounded fighter who is Jewish. As she nurses him back to health, she falls helplessly in love with the brave and humble Mario, who comes from as ancient and noble an Italian family as she does. They pledge their love, and then must fight a real battle against the Nazis who become more desperate and cruel as the Allies close in on them...
Paperback
1101ML
---