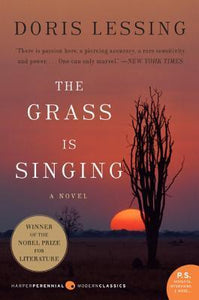 The Grass is Singing (Used Paperback) - Doris Lessing
Set in Southern Rhodesia under white rule, Doris Lessing's first novel is at once a riveting chronicle of human disintegration, a beautifully understated social critique, and a brilliant depiction of the quiet horror of one woman's struggleagainst a ruthless fate.
Mary Turner is a self-confident, independent young woman who becomes the depressed, frustrated wife of an ineffectual, unsuccessful farmer. Little by little the ennui of years on the farm works its slow poison. Mary's despair progresses until the fateful arrival of Moses, an enigmatic, virile black servant. Locked in anguish, Mary and Moses—master and slave—are trapped in a web of mounting attraction and repulsion, until their psychic tension explodes with devastating consequences.
---