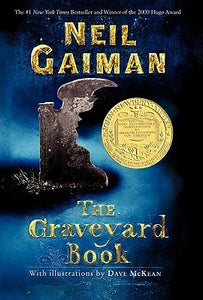 The Graveyard Book (Used Book) - Neil Gaiman
IT TAKES A GRAVEYARD TO RAISE A CHILD.

Nobody Owens, known to his friends as Bod, is a normal boy. He would be completely normal if he didn't live in a sprawling graveyard, being raised and educated by ghosts, with a solitary guardian who belongs to neither the world of the living nor of the dead. There are dangers and adventures in the graveyard for a boy - an ancient indigo man, a gateway to abandoned city of ghouls, the strange and terrible fleer. But if Bod leaves the graveyard, then he will be in danger from the man Jack - who has already killed Bod's family . . .
Paperback
---