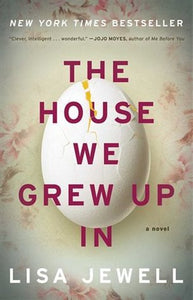 The House We Grew Up In (Used Book) - Lisa Jewell
Meet the Bird family. They live in a honey-colored house in a picture-perfect Cotswolds village, with rambling, unkempt gardens stretching beyond. Pragmatic Meg, dreamy Beth, and tow-headed twins Rory and Rhys all attend the village school and eat home-cooked meals together every night. Their father is a sweet gangly man named Colin, who still looks like a teenager with floppy hair and owlish, round-framed glasses. Their mother is a beautiful hippy named Lorelei, who exists entirely in the moment. And she makes every moment sparkle in her children's lives.

Then one Easter weekend, tragedy comes to call. The event is so devastating that, almost imperceptibly, it begins to tear the family apart. Years pass as the children become adults, find new relationships, and develop their own separate lives. Soon it seems as though they've never been a family at all. But then something happens that calls them back to the house they grew up in -- and to what really happened that Easter weekend so many years ago.

Told in gorgeous, insightful prose that delves deeply into the hearts and minds of its characters, The House We Grew Up In is the captivating story of one family's desire to restore long-forgotten peace and to unearth the many secrets hidden within the nooks and crannies of home.
Paperback
---