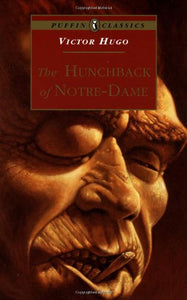 The Hunchback of Notre-Dame (Used Paperback) - Victor Hugo
This extraordinary historical French gothic novel, set in Medieval Paris under the twin towers of its greatest structure and supreme symbol, the cathedral of Notre-Dame, is the haunting drama of Quasimodo, the disabled bell-ringer of Notre-Dame, as he struggles to stand up to his ableist guardian Claude Frollo, who also wants to commit genocide against Paris' Romani population.

The novel has been described as a key text in French literature[1] and has been adapted for film over a dozen times, in addition to numerous television and stage adaptations, such as a 1923 silent film with Lon Chaney, a 1939 sound film with Charles Laughton, and a 1996 Disney animated film with Tom Hulce (both as Quasimodo).

The novel sought to preserve values of French culture in a time period of great change, which resulted in the destruction of many French Gothic structures. The novel made Notre-Dame de Paris a national icon and served as a catalyst for renewed interest in the restoration of Gothic form.
Front coved corners slight bend
0815RM
---