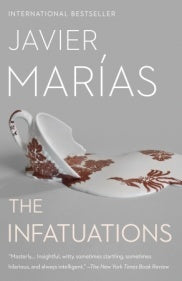 The Infatuations (Used Book) - Javier Marias
From the award-winning Spanish writer Javier Marías comes an extraordinary new book that has been a literary sensation around the world: an immersive, provocative novel propelled by a seemingly random murder that we come to understand—or do we?—through one woman's ever-unfurling imagination and infatuations.

At the Madrid café where she stops for breakfast each day before work, María Dolz finds herself drawn to a couple who is also there every morning. Though she can hardly explain it, observing what she imagines to be their "unblemished" life lifts her out of the doldrums of her own existence. But what begins as mere observation turns into an increasingly complicated entanglement when the man is fatally stabbed in the street. María approaches the widow to offer her condolences, and at the couple's home she meets—and falls in love with—another man who sheds disturbing new light on the crime. As María recounts this story, we are given a murder mystery brilliantly reimagined as metaphysical enquiry, a novel that grapples with questions of love and death, guilt and obsession, chance and coincidence, how we are haunted by our losses, and above all, the slippery essence of the truth and how it is told.
Paperback
1115ML
---