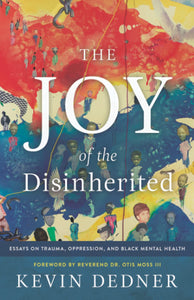 The Joy of the Disinherited: Essays on Trauma, Oppression, and Black Mental Health (Used Paperback) - Kevin Dedner
Could being Black in America make you sick?

Over the last decade, Kevin Dedner has been on a mission to explore this powerful and troubling question, shining an unconventional spotlight on the impact of racism on mental health. In his debut book, The Joy of the Disinherited, Dedner articulates his call for urgent We must knock down the invisible barriers that make it harder for Black people to get the mental health care they need and deserve.

Building on American author and civil rights leader Howard Thurman's Jesus and the Disinherited, widely considered a manual of resistance for the oppressed, Dedner uses Thurman's teachings to come to terms with the impact oppression has had on his own mental health and the mental health of Black Americans, digging into family stories as examples of the legacy of unresolved generational trauma of the disinherited.

As a public health professional who has spent his career working on high-profile issues, Dedner uses his autobiographical essays to highlight the latest mental health research, while simultaneously interrogating the invisible barriers he has encountered along his own mental health journey. Dedner weaves together research, personal storytelling and a powerful sense of our shared history to drive the conversation about the future of mental health care for the Black community and other underserved groups ever forward.
0627RM
---