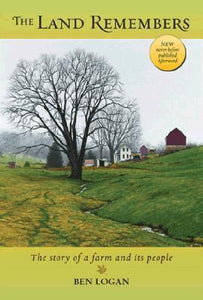 The Land Remembers: The Story of a Farm and Its People - Ben Logan
This classic American memoir is about a farm and its people, of a boyhood on a southwestern Wisconsin hilltop world in the 1930s. Ben Logan grew up on Seldom Seen Farm with his three brothers, father, mother, and hired hand Lyle—"the fifth Logan boy." The boys discussed and argued and joked over the events around their farm, marked the seasons by the demands of the land, tested each other and themselves, and grew up learning timeless lessons. This paperback edition features Logan's never-before-published afterword that traces the Logan land to an earlier time, bringing the story full circle to the farm and its people.
Condition: Used book in Very Good condition.
Paperback.
0412ET
---