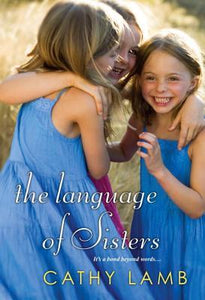 The Language of Sisters (Used Paperback) - Cathy Lamb
From acclaimed author Cathy Lamb comes a warm and thoughtful novel about the secrets that can break or unite a family—and the voices that resonate throughout our lives...
 
Toni Kozlovsky can't explain how she knows exactly what her sisters are feeling—only that the connection seems to happen out of the blue, just when they need it most. Since Toni, Valerie, and Ellie were little girls growing up in Communist Russia, their parents have insisted it's simply further proof that the Kozlovskys are special and different.
 
Now a crime and justice reporter, Toni lives on a yellow tugboat on Oregon's Willamette River. As far as her parents are concerned, the pain of their old life and their dangerous escape should remain buried in the Moscow they left behind, as should the mysterious past of their adopted brother, Dmitry. But lately, Toni's talent for putting on a smile isn't enough to keep memories at bay.
 
Valerie, a prosecuting attorney, wages constant war against the wrongs she could do nothing about as a child. Youngest sister Ellie is engaged to marry an Italian, breaking her mother's heart in the process. Toni fears she's about to lose her home, while the hard edged DEA agent down the dock keeps trying to break through her reserve. Meanwhile, beneath the culture clashes and endearing quirks within her huge, noisy, loving family are deeper secrets that Toni has sworn to keep—even from the one person she longs to help most.
 
As poignant as it is humorous, The Language of Sisters explores the echoes of the past that can cling to the present—and how love, laughter, and family can rescue us time and again.
0801ML
---