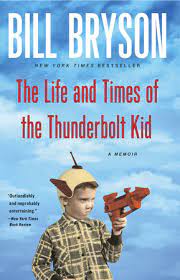 The Life and Times of the Thunderbolt Kid (Used Paperback) - Bill Bryson
Bill Bryson was born in the middle of the American century—1951—in the middle of the United States—Des Moines, Iowa—in the middle of the largest generation in American history—the baby boomers. As one of the best and funniest writers alive, he is perfectly positioned to mine his memories of a totally all-American childhood for 24-carat memoir gold. Like millions of his generational peers, Bill Bryson grew up with a rich fantasy life as a superhero. In his case, he ran around his house and neighborhood with an old football jersey with a thunderbolt on it and a towel about his neck that served as his cape, leaping tall buildings in a single bound and vanquishing awful evildoers (and morons)—in his head—as "The Thunderbolt Kid."
Warm and laugh-out-loud funny, and full of his inimitable, pitch-perfect observations, The Life and Times of the Thunderbolt Kid is as wondrous a book as Bill Bryson has ever written. It will enchant anyone who has ever been young.
---