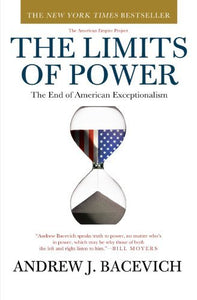 The Limits of Power: The End of American Exceptionalism (Used Book) - Andrew J Bacevich
An immediate New York Times bestseller, The Limits of Power offers an unparalleled examination of the profound triple crisis facing America: an economy in disarray that can no longer be fixed by relying on expansion abroad; a government transformed by an imperial presidency into a democracy in name only; and an engagement in endless wars that has severely undermined the body politic.

Writing with knowledge born of experience, conservative historian and former military officer Andrew J. Bacevich argues that if the nation is to solve its predicament, it will need the revival of a distinctly American approach: the neglected tradition of realism. In contrast to the multiple illusions that have governed American policy since 1945, he calls for respect for power and its limits; aversion to claims of exceptionalism; skepticism of easy solutions, especially those involving force; and a conviction that Americans must live within their means. Only a return to such principles, Bacevich eloquently argues, can provide common ground for fixing America's urgent problems before the damage becomes irreparable.
Paperback
---