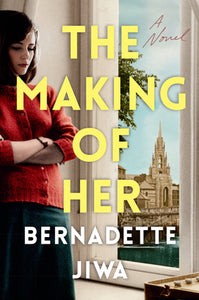 The Making of Her (Used Hardcover) - Bernadette Jiwa
Chosen as one of New York Post's Best Books of 2022

People were forever telling her how lucky she was. But what did people know? '

Dublin 1966. When Joan Quinn, a factory girl from the Cranmore Estate, marries Martin Egan, it looks like her dreams have come true. But Joan lives in the shadow of a secret – the couple's decision to give up their first daughter for adoption only months before.

Then one day in 1996, a letter arrives from their eldest daughter. Emma needs her birth parents' help; it's a matter of life and death. And the fragile facade of Joan's life finally begins to crack.
 
Spanning the nineties and the sixties, with Dublin as its backdrop, The Making of Her is the tender and page-turning story of marriage, motherhood, a culture that would not allow a woman to find true happiness—and her journey to finally claim it.
0718ML
---