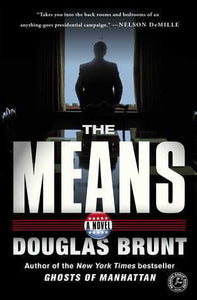 The Means (Used Book) - Douglas Brunt
Tom Pauley is a respected trial attorney in Durham, North Carolina, who is tapped by GOP leaders to campaign for the governor's mansion. His bold style makes him a favorite for a run at the White House.

Mitchell Mason, the president-elect of the United States, has finally surpassed his father's distinguished achievements. Mason carries out his administration with a personal touch that creates both friends and enemies.

Samantha Davis is a lawyer turned journalist, working her way up from the bottom in another cutthroat industry. As determined as she is brilliant, her dogged pursuit of a decade-old story threatens to trigger a scandal that could change the race for the White House.
Paperback
0321SR
---