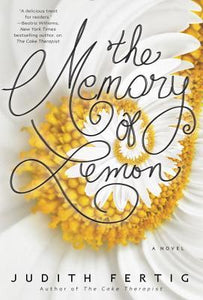 The Memory of Lemons (Used Book) - Judith Fertig
The author of The Cake Therapist returns with another sweet and emotional tale featuring Neely, the baker with a knack for finding exactly the right flavor for any occasion...
 
A crisp tang of citrus that is at once poignant and familiar, sharpening the senses and opening the mind to possibilities once known and long forgotten...
 
Claire "Neely" Davis is no ordinary pastry chef. Her flavor combinations aren't just a product of a well-honed palate: she can "taste" people's emotions, sensing the ingredients that will touch her customers' souls. Her gift has never failed her—until she meets a free-spirited bride-to-be and her overbearing society mother. The two are unable to agree on a single wedding detail, and their bickering leaves Neely's intuition frustratingly silent—right when she needs it most.
 
Between trying to navigate a divorce, explore a new relationship, and handle the reappearance of her long-absent father, Neely is struggling to make sense of her own conflicting emotions, much less those of her hard-to-please bride. But as she embarks on a flavorful quest to craft the perfect wedding celebration, she'll uncover a family history that sheds light on both the missing ingredients and her own problems—and illustrates how the sweet and sour in life often combine to make the most delicious memories...
Paperback
0411ML
---