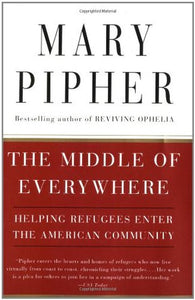 The Middle of Everywhere: Helping Refugees Enter the American Community - Mary Pipher, Susan Cohen
Over the past decade, Mary Pipher has been a great source of wisdom, helping us to better understand our family members. Now she connects us with the newest members of the American family--refugees. In cities all over the country, refugees arrive daily. Lost Boys from Sudan, survivors from Kosovo, families fleeing Afghanistan and Vietnam: they come with nothing but the desire to experience the American dream. Their endurance in the face of tragedy and their ability to hold on to the virtues of family, love, and joy are a lesson for Americans. Their stories will make you laugh and weep--and give you a deeper understanding of the wider world in which we live.
The Middle of Everywhere moves beyond the headlines into the homes of refugees from around the world. Working as a cultural broker, teacher, and therapist, Mary Pipher has once again opened our eyes--and our hearts--to those with whom we share the future.
Paperback
---