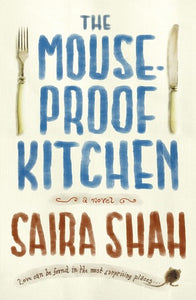 The Mouse-Proof Kitchen (Used Book) - Saira Shah
A deeply moving debut novel about a couple's struggle to love and accept their disabled child and keep their family together.

Anna is a planner. So when she discovers she's pregnant, she prepares for a perfect new life in Provençe, France, with her perfect new baby-to-be. Anna's partner, the easy-going Tobias, shouldn't have too much difficulty tagging along—after all, he's a musician who rarely starts his day before noon. But all that changes when their baby is born severely disabled.

Anna, Tobias, and their daughter, Freya, end up in a rickety, rodent-infested farmhouse in a remote town in France—far from the mansion in Provençe they had imagined. Little do they know that this is the beginning of what will become an incredible journey of the heart—one during which they learn there really is no such thing as a mouse-proof kitchen. Life is messy, and it's the messy bits that make it count.
Hardcover
0321ML

---