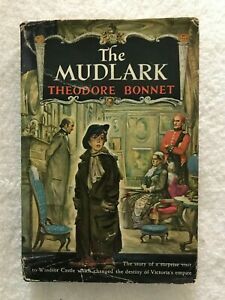 The Mudlark (Used, Vintage Book) - Theodore Bonnet (1st Ed, 1949)
Vintage, 1st Edition. Published in 1949 by Doubleday & Company, Inc.
The Mudlark is a delightful tongue-in-cheek story of a little London ragamuffin and the highly improper disturbance he caused in the reign of Victoria. 
The astonishing series of events that followed, and the amusing characters in and about Windsor Castle who became involved, include an unforgettable portrait of the great Disraeli himself that is at once charming and unconventional. 
Condition: Vintage book in Very Good condition. Dust jacket has some fraying from age. Previous owner's name inside. 
Hardcover
0114DRH
---