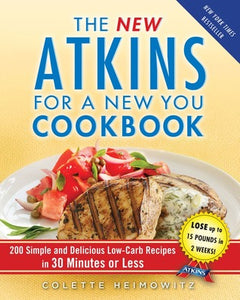 The New Atkins for a New You Cookbook: 200 Simple and Delicious Low-Carb Recipes in 30 Minutes or Less (Used Book) - Colette Heimowitz
With more than two hundred new recipes to support your healthy, low-carb lifestyle, the New York Times bestselling New Atkins for a New You Cookbook is a must-have guide for anyone who is looking for fresh, delicious ways to lose weight and keep it off for life.

The New Atkins for a New You revolutionized low-carb eating and introduced a whole new approach to the classic Atkins Diet, offering a more flexible and easier-to-maintain lifestyle. But there's one thing people keep asking for: more Atkins-friendly recipes. And that's what The New Atkins for a New You Cookbook delivers—it's the first cookbook to reflect the new Atkins program, featuring thirty-two pages of full-color photographs and hundreds of original low-carb recipes that are:

QUICK: With prep time of thirty minutes or less

SIMPLE: Most use ten or fewer ingredients

ACCESSIBLE: Made primarily with ingredients found in supermarkets

DELICIOUS: You'll be amazed that low-carb food can be this fresh and tasty!

Atkins is more than just a diet—it's a healthy lifestyle that focuses on weight management from day one, ensuring that once you take the weight off, you'll keep it off for good. And The New Atkins for a New You Cookbook features recipes with a broad range of carb counts, providing the perfect plan for a lifetime of healthy eating. 
Paperback
---