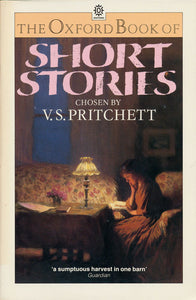 The Oxford Book Of Short Stories (Used Book) - V.S. Pritchett
Only V.S. Pritchett, one of the most distinguished living writers of short stories in English, could tackle the daunting task of compiling a short story anthology, a project that entails displaying in a single volume the wealth and variety of an art that spans over 200 years and has evolved out of many divergent literary traditions. Accepting the challenge, Pritchett has chosen over forty stories written in the English language during the period between the early nineteenth century and the present day.
Since the time of Sir Walter Scott, Edgar Allan Poe, and Nathaniel Hawthorne, Great Britain, America, and especially Ireland have developed great traditions of short-story writing, which Ernest Hemingway, D.H. Lawrence, Somerset Maugham, John Updike, and V.S. Pritchett himself have perpetuated in this century. Demonstrating the full range of invention and ability within the genre, Pritchett includes a sampling of stories by such Irish masters as James Joyce, Frank O'Connor, and Liam O'Flaherty, as well as stories by Canadian, Indian, New Zealand, and Australian writers.
In the Introduction, Pritchett stresses that the collection does not necessarily contain "the best" short stories. Instead, he has chosen these stories based on his own personal tastes seasoned by "seventy years of passionate addiction to the short story and fifty years as a fellow writer" in the art.
Paperback
0323RM
---