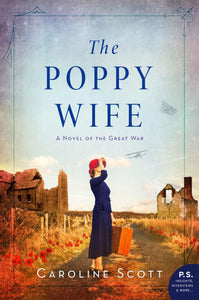 The Poppy Wife (Used Paperback) - Caroline Scott
In the tradition of Jennifer Robson and Hazel Gaynor, this unforgettable debut novel is a sweeping tale of forbidden love, profound loss, and the startling truth of the broken families left behind in the wake of World War I.

1921. Survivors of the Great War are desperately trying to piece together the fragments of their broken lives. While many have been reunited with their loved ones, Edie's husband Francis is still missing. Francis is presumed to have been killed in action, but Edie knows he is alive.

Harry, Francis's brother, was there the day Francis went missing in Ypres. And like Edie, he's hopeful Francis is living somewhere in France, lost and confused. Hired by grieving families in need of closure, Harry returns to the Western Front to photograph soldiers' graves. As he travels through France gathering news for British wives and mothers, he searches for evidence his own brother is still alive.

When Edie receives a mysterious photograph that she believes was taken by Francis, she is more certain than ever he isn't dead. Edie embarks on her own journey in the hope of finding some trace of her husband. Is he truly gone, or could he still be alive? And if he is, why hasn't he come home?

As Harry and Edie's paths converge, they get closer to the truth about Francis and, as they do, are soon faced with the life-changing impact of the answers they discover.

An incredibly moving account of an often-forgotten moment in history—those years after the war that were filled with the unknown—The Poppy Wife tells the story of the thousands of soldiers who were lost amid the chaos and ruins in battle-scarred France; and the even greater number of men and women hoping to find them again.
0725ML
---