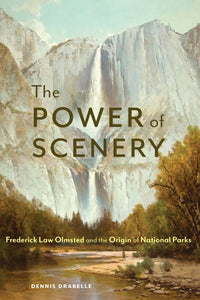 The Power of Scenery (Used Hardcover) - Dennis Drabelle
Wallace Stegner called national parks "the best idea we ever had." As Americans celebrate the 150th anniversary of Yellowstone, the world's first national park, a question naturally where did the idea for a national park originate? The answer starts with a look at pre-Yellowstone America. With nothing to put up against Europe's cultural pearls—its cathedrals, castles, and museums—Americans came to realize that their plentitude of natural wonders might compensate for the dearth of manmade attractions. That insight guided the great landscape architect Frederick Law Olmsted as he organized his thoughts on how to manage the wilderness park centered on Yosemite Valley, a state-owned predecessor to the national park model of Yellowstone. Haunting those thoughts were the cluttered and carnival-like banks of Niagara Falls, which served as an oft-cited example of what should not happen to a spectacular natural phenomenon.

Olmsted saw city parks as vital to the pursuit of happiness and wanted them to be established for all to enjoy. When he wrote down his philosophy for managing Yosemite, a new and different kind of park, one that preserves a great natural site in the wilds, he had no idea that he was creating a visionary blueprint for national parks to come. Dennis Drabelle provides a history of the national park concept, adding to our understanding of American environmental thought and linking Olmsted with three of the country's national treasures. Published in time to celebrate the 150th anniversary of Yellowstone National Park on March 1, 2022, and the 200th birthday of Frederick Law Olmsted on April 26, 2022, The Power of Scenery tells the fascinating story of how the national park movement arose, evolved, and has spread around the world.
0913WS
---