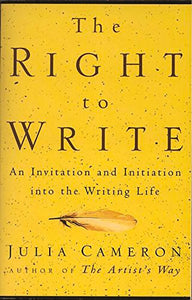 The Right to Write (Used Paperback) - Julia Cameron
What if everything we have been taught about learning to write was wrong? In 
The Right to Write
, 
Julia Cameron
's most revolutionary book, the author of the bestselling self-help guide 
The Artist's Way
, asserts that conventional writing wisdom would have you believe in a false doctrine that stifles creativity. With the techniques and anecdotes in 
The Right to Write
, readers learn to make writing a natural, intensely personal part of life. Cameron's instruction and examples include the details of the writing processes she uses to create her own bestselling books. She makes writing a playful and realistic as well as a reflective event. Anyone jumping into the writing life for the first time and those already living it will discover the art of writing is never the same after reading 
The Right to Write
.
---