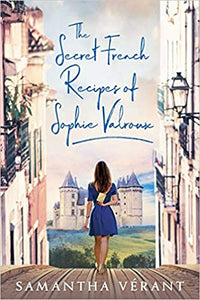 The Secret French Recipes of Sophie Valroux - Samantha Verant
A disgraced chef rediscovers her passion for food and her roots in this stunning novel rich in culture and full of delectable recipes.

French-born American chef Sophie Valroux had one dream: to be part of the 1% of female chefs running a Michelin-starred restaurant. From spending summers with her grandmother, who taught her the power of cooking and food, to attending the Culinary Institute of America, Sophie finds herself on the cusp of getting everything she's dreamed of.

Until her career goes up in flames.

Sabotaged by a fellow chef, Sophie is fired, leaving her reputation ruined and confidence shaken. To add fuel to the fire, Sophie learns that her grandmother has suffered a stroke and takes the red-eye to France. There, Sophie discovers the simple home she remembers from her childhood is now a luxurious château, complete with two restaurants and a vineyard. As Sophie tries to reestablish herself in the kitchen, she comes to understand the lengths people will go to for success and love, and how dreams can change. 
Paperback
1206ML

---