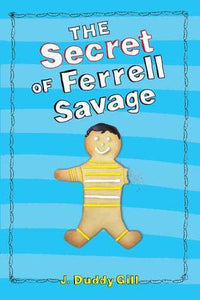 The Secret of Ferrell Savage (Used Paperback) -J. Duddy Gill
Middle school romance is hard enough, but cannibalism really gets in the way. This humorous look at first crushes and family secrets is sure to be devoured.

Ferrell Savage is finally twelve, and finally eligible to compete in The Big Sled Race on Golden Hill—the perfect chance to impress Mary Vittles. Mary is Ferrell's best friend…and maybe, someday, something more.

Except the "more" Ferrell first finds is more information about his family. It turns out that his great, great, great uncle had an encounter with Mary's great, great grandfather. And the encounter was, well, let's just say…edible. Sure, the circumstances were extreme, but some facts might just be romantically indigestible. At least now Ferrell understands why his family is vegan.

But even as Ferrell and Mary encounter blackmail, a second sled race, and a particularly enticing bag of beef jerky, Ferrell realizes that he might still have a chance with Mary. If, that is, his family secret doesn't eat them alive.
0712CM
---