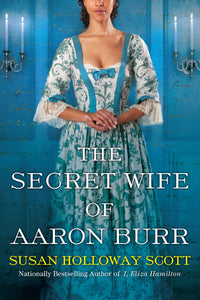 The Secret Wife of Aaron Burr (Used Book) - Susan Holloway Scott
Inspired by a woman and events forgotten by history, bestselling author Susan Holloway Scott weaves together carefully researched fact and fiction to tell the story of Mary Emmons, and the place she held in the life—and the heart—of the notorious Aaron Burr.
 
He was a hero of the Revolution, a brilliant politician, lawyer, and very nearly president; a skillful survivor in a raw new country filled with constantly shifting loyalties. Today Aaron Burr is remembered more for the fatal duel that killed rival Alexander Hamilton. But long before that single shot destroyed Burr's political career, there were other dark whispers about him: that he was untrustworthy, a libertine, a man unafraid of claiming whatever he believed should be his.
 
Sold into slavery as a child in India, Mary Emmons was brought to an America torn by war. Toughened by the experiences of her young life, Mary is intelligent, resourceful, and strong. She quickly gains the trust of her new mistress, Theodosia Prevost, and becomes indispensable in a complicated household filled with intrigue—especially when the now-widowed Theodosia marries Colonel Aaron Burr. As Theodosia sickens with the fatal disease that will finally kill her, Mary and Burr are drawn together into a private world of power and passion, and a secret, tangled union that would have shocked the nation . . .
 
Paperback
0321ML
---