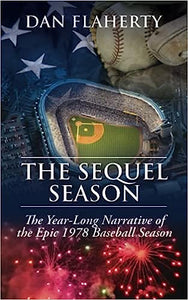 The Sequel Season (Used Paperback)- Dan Flaherty
The 1978 baseball season remains one of the most extraordinary in the long history of the sport. It's a season defined in history by Bucky Dent's dramatic home run at Fenway Park that pushed the New York Yankees past the Boston Red Sox. But there was much more and The Sequel Season covers it all.

1978 was a year when the reigning powers in each division—the Yankees, Kansas City Royals, Philadelphia Phillies and Los Angeles Dodgers—all faced spirited challenges throughout the year. You'll read about the adversity each team faced, the quality of those who sought to displace them, and how they ultimately prevailed—the only time in history that the same four teams returned to the League Championship Series.

The postseason of 1978 was more of the same. The LCS rounds and World Series provided thrilling games, filled what what-might-have-been moments. And just like the regular season, the playoffs ended with the same winner as the year before. New York kept finding ways to break hearts in Kansas City. Los Angeles kept surviving Philadelphia. And the Yankees kept bedeviling the Dodgers.

It's all here in The Sequel Season. You'll read how the Red Sox roared out to a seemingly insurmountable lead, and how the Yankees overcame internal turmoil to turn their season around. You'll learn how the Royals outlasted the California Angels and how the Phillies staved off a furious push from the Pittsburgh Pirates. And you'll see how the Dodgers, San Francisco Giants and Cincinnati Reds staged a riveting summer-long battle, before Los Angeles finally asserted themselves in the end.

Ultimately, The Sequel Season takes you deep into the heart of the six-month baseball marathon, recalling both the big moments that history remembers, and the under-the-radar moments that time forgot, but were significant in shaping the final outcome. The Sequel Season is simply a terrific way to settle in and enjoy all the granular moments that make up a baseball season.
0717RT
---