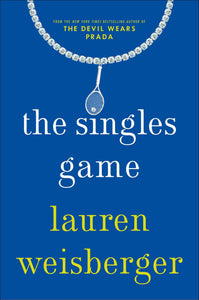 The Singles Game (Used Hardcover) - Lauren Weisberger
The new novel from the New York Times bestselling author of The Devil Wears Prada and Revenge Wears Prada—a dishy tell-all about a beautiful tennis prodigy who, after changing coaches, suddenly makes headlines on and off the court.

Charlotte "Charlie" Silver has always been a good girl. She excelled at tennis early, coached by her father, a former player himself, and soon became one of the top juniors in the world. When she leaves UCLA—and breaks her boyfriend's heart—to turn pro, Charlie joins the world's best athletes who travel eleven months a year, competing without mercy for Grand Slam titles and Page Six headlines.

After Charlie suffers a disastrous loss and injury on Wimbledon's Centre Court, she fires her longtime coach and hires Todd Feltner, a legend of the men's tour, who is famous for grooming champions. Charlie is his first-ever female player, and he will not let her forget it. He is determined to change her good-girl image—both on the court and off—and transform her into a ruthless competitor who will not only win matches and climb the rankings, but also score magazine covers and seven-figure endorsement deals. Her not-so-secret affair with the hottest male player in the world, sexy Spaniard Marco Vallejo, has people whispering, and it seems like only a matter of time before the tabloids and gossip blogs close in on all the juicy details. Charlie's ascension to the social throne parallels her rising rank on the women's tour—but at a major price.

Lauren Weisberger's novel brings us exclusive behind-the-scenes details from all the Grand Slam tournaments: the US Open, the French Open, the Australian Open, and Wimbledon. Charlie Silver jets around the globe, plays charity matches aboard Mediterranean megayachts, models in photo shoots on Caribbean beaches, walks the red carpet at legendary player parties, and sidesteps looming scandals—all while trying to keep her eyes on the real prize. In this sexy, unputdownable read about young tennis stars who train relentlessly to compete at the highest levels while living in a world obsessed with good looks and Instagram followers, Charlie must discover the secret to having it all—or finally shatter the illusion for good. - See more at: http://books.simonandschuster.com/The...
0801ML
---