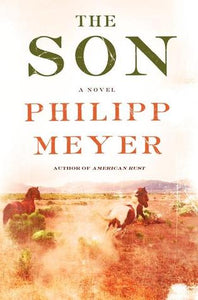 The Son (Used Book) - Philipp Meyer
The acclaimed author of American Rust, returns with The Son: an epic, multigenerational saga of power, blood, and land that follows the rise of one unforgettable Texas family from the Comanche raids of the 1800s to the border raids of the early 1900s to the oil booms of the 20th century.

Part epic of Texas, part classic coming-of-age story, part unflinching portrait of the bloody price of power, The Son is an utterly transporting novel that maps the legacy of violence in the American West through the lives of the McCulloughs, an ambitious family as resilient and dangerous as the land they claim.

Spring, 1849. The first male child born in the newly established Republic of Texas, Eli McCullough is thirteen years old when a marauding band of Comanche storm his homestead and brutally murder his mother and sister, taking him captive. Brave and clever, Eli quickly adapts to Comanche life, learning their ways and language, answering to a new name, carving a place as the chief's adopted son, and waging war against their enemies, including white men-complicating his sense of loyalty and understanding of who he is. But when disease, starvation, and overwhelming numbers of armed Americans decimate the tribe, Eli finds himself alone. Neither white nor Indian, civilized or fully wild, he must carve a place for himself in a world in which he does not fully belong-a journey of adventure, tragedy, hardship, grit, and luck that reverberates in the lives of his progeny.

Intertwined with Eli's story are those of his son, Peter, a man who bears the emotional cost of his father's drive for power, and JA, Eli's great-granddaughter, a woman who must fight hardened rivals to succeed in a man's world.

Phillipp Meyer deftly explores how Eli's ruthlessness and steely pragmatism transform subsequent generations of McCulloughs. Love, honor, children are sacrificed in the name of ambition, as the family becomes one of the richest powers in Texas, a ranching-and-oil dynasty of unsurpassed wealth and privilege. Yet, like all empires, the McCoulloughs must eventually face the consequences of their choices.

Harrowing, panoramic, and vividly drawn, The Son is a masterful achievement from a sublime young talent. 
Hardcover
0712ML

---