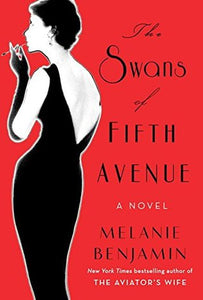 The Swans of Fifth Avenue (Used Hardcover) - Melanie Benjamin
From the New York Times bestselling author of The Aviator's Wife comes an enthralling new novel about Truman Capote's scandalous, headline-making, and heart-wrenching friendship with Babe Paley and New York's society "swans" of the 1950s.

Centered on two dynamic, complicated, and compelling protagonists—Truman Capote and Babe Paley—this book is steeped in the glamour and perfumed and smoky atmosphere of New York's high society. Babe Paley—known for her high-profile marriage to CBS founder William Paley and her ranking in the International Best-Dressed Hall of Fame—was one of the reigning monarchs of New York's high society in the 1950s. Replete with gossip, scandal, betrayal, and a vibrant cast of real-life supporting characters, readers will be seduced by this startling new look at the infamous society swans.
0912ML
---