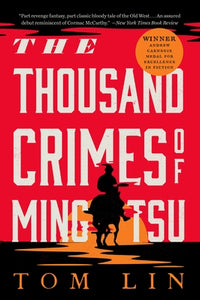 The Thousand Crimes of Ming Tsu (Used Book) - Tom Lin
Orphaned young, Ming Tsu, the son of Chinese immigrants, is raised by the notorious leader of a California crime syndicate, who trains him to be his deadly enforcer. But when Ming falls in love with Ada, the daughter of a powerful railroad magnate, and the two elope, he seizes the opportunity to escape to a different life. Soon after, in a violent raid, the tycoon's henchmen kidnap Ada and conscript Ming into service for the Central Pacific Railroad.
 
Battered, heartbroken, and yet defiant, Ming partners with a blind clairvoyant known only as the prophet. Together the two set out to rescue his wife and to exact revenge on the men who destroyed Ming, aided by a troupe of magic-show performers, some with supernatural powers, whom they meet on the journey. Ming blazes his way across the West, settling old scores with a single-minded devotion that culminates in an explosive and unexpected finale.
Paperback
0913SR
---