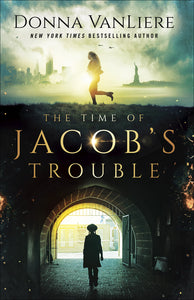 The Time of Jacob's Trouble (Used Book) - Donna VanLiere
A typical day at work turns into a nightmare for Emma Grady when her favorite patient and several colleagues vanish in front of her. Fear turns to chaos as Emma begins the frantic race from Brooklyn to Queens, anxious to discover if her boyfriend is safe. Subways are closed, graves are open, and countless people have inexplicably disappeared. Mayhem erupts as terror grips the residents of New York City.

What could make so many vanish in a moment? And not just in New York, but all over the globe? Emma wonders if this is the predicted end of the world and begins a desperate search for answers.

This page-turning story will take you on a riveting journey from New York City to Israel, and in the final chapters, Donna turns to the pages of the Bible, where you'll learn that God has made known to us "the end from the beginning," and that things aren't spiraling downward but are actually looking up.

The bestselling author of The Christmas Shoes now explores a future world facing its final days in The Time of Jacob's Trouble, weaving end-times prophecies into the lives of Emma and her friends as they struggle to survive and come face-to-face with the chilling truth about the disappearances. 
Paperback
1011ML
---