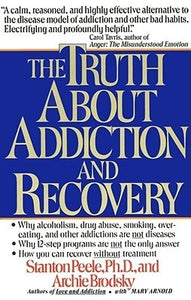 The Truth About Addiction and Recovery (Used Book) - Stanton Peele
Drawing on the latest research and detailed case studies, the authors expose the best-kept secrets in the recovery field:

· Addictions—whether to food, cigarettes, sex, alcohol, or drugs—are not diseases, and they're not necessarily lifelong problems.
· Many more people give up addictions on their own than are helped by medical treatment or twelve-step programs.
· Developing values, skills, and life resources enables people to quit addictions—and to shed the addict identity altogether.

In their revolutionary "Life Process Program" for overcoming all kinds of addictions, the authors emphasize self-help and treatment through coping with stress and achieving one's goals. As helpful as it is controversial, The Truth About Addiction and Recovery will forever change the way we view and treat addiction.
Paperback
---