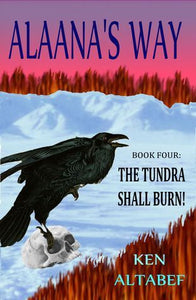 The Tundra Shall Burn! (Used Paperback) - Ken Altabef
Vithrok, an ancient sorcerer, embarks on a plan to blot out the sun and reshape the world. As the conflict broadens, even the great guardian spirits themselves must choose sides, fight, and die. In the end only one woman stands a chance of thwarting the cataclysm - Alaana, the Antatook shaman.
Condition: Used book in Very Good condition, slight bend on bottom corner.

---