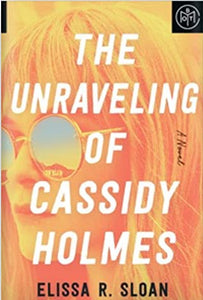 The Unraveling of Cassidy Holmes (Used Hardcover) - Elissa R. Sloan
Cassidy Holmes isn't just a celebrity.

She is "Sassy Gloss," the fourth member of the hottest pop group America has ever seen. Before Britney stunned everyone with "Toxic," before Christina went dirrty, Gloss was the pop act that everyone idolized. Fans couldn't get enough of them, their music, and the drama that followed them like moths to a flame—until the group's sudden implosion in 2002. And at the center of it all was Sassy Cassy, the Texan with a signature smirk that had everyone falling for her.

But now she's dead. Suicide.

The world is reeling from this unexpected news, but no one is more shocked than the three remaining bandmates. Fifteen years ago, Rose, Merry, and Yumi had been the closest to Cassidy, and this loss is hitting them hard. Before the group split, they each had a special bond with Cassidy—truths they told, secrets they shared. After years apart, each is wondering: what could they have done?

Told in multiple perspectives—including Cassidy herself—and different timelines, this is a behind-the-scenes look into the rise and fall of a pop icon, and a penetrating examination of the dark side of celebrity and the industry that profits from it.
0718ML
---