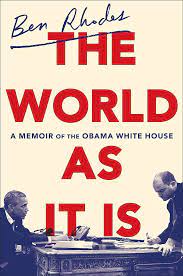 The World as It Is: A Memoir of the Obama White House (USed Hardcover) - Ben Rhodes
For nearly 10 years, Ben Rhodes saw almost everything that happened at the center of the Obama Administration--first as a speechwriter, then as Deputy National Security Advisor, and finally as a multi-purpose aide and close collaborator, starting every morning with Barack Obama in the Presidential Daily Briefing. Now, he tells the full story of his partnership--and, ultimately, friendship--with a man who also happened to be an historic President of the United States.

Ben Rhodes was not your normal presidential confidante and this is not your normal White House memoir. This is a rare look inside the most consequential, tense, and poignant moments of the Obama presidency, rendered in vivid, novelistic detail from someone who was a writer before he was a staffer: waiting out the bin Laden raid in the Situation Room; starting every morning with Barack Obama in the Presidential Daily Briefing; responding to the Arab Spring; reaching a nuclear agreement with Iran; leading secret negotiations with the Cuban government to normalize relations; confronting the resurgence of nationalism and nativism that culminated in the election of Donald Trump.

Rhodes pulls the curtain back on what it was like to be there--from the early days of the Obama campaign, to the final hours of the presidency, standing next to Obama and reading a hand-written copy of the Gettysburg Address. It is a story populated by characters like Susan Rice, Samantha Power, Hillary Clinton, Bob Gates, and--above all--Barack Obama, who come to life on the page in moments of great urgency and disarming intimacy.
0827NVB
---