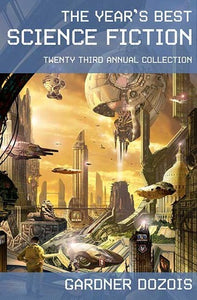 The Year's Best Science Fiction: Twenty-Third Annual Collection (Used Paperback) - Gardner Dozois
THE TWENTY-NINE STORIES in this collection imaginatively take us far across the universe, into the very core of our beings, to the realm of the gods, and the moment just after now. Included here are the works of masters of the form and of bright new talents, including: Neal Asher, Paolo Bacigalupi, Stephen Baxter, Elizabeth Bear, Chris Beckett, David Gerrold, Dominic Green, Daryl Gregory, Joe Haldeman, Gwyneth Jones, james patrick Kelly, Jay Lake and Ruth Nestvold, Ken MacLeod, Ian McDonald, Vonda N. McIntyre, David Moles, Steven Popkes, Hannu Rajaniemi, Alastair Rynolds, Robert Reed, Christ Roberson, Mary Rosenblum, William Sanders, Bruce Sterling, Michael Swanwick, Harry Turtledove, Peter Watts and Derryl Murphy, Liz Williams, and Gene Wolfe.
Supplementing the stories are the editor's insightful summation of the year's events and list of honorable mentions, making this book both a valuable resource and the single best place in the universe to find stories that stir the imagination, and the heart.
---