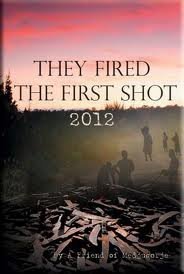 They Fired the First Shot 2012 (Used Paperback) - A Friend of Medjugorgje
Chinese warrior, Sun-tzu, taught that in order to win every battle, you must
know yourself and you must know your enemy. We know that the United
States of America is facing an attack unlike anything it has ever experienced in its history. Why are we losing battle after battle in the face of an all-advancing evil? It's because we don't know ourselves and we don't
know our enemy. After reading They Fired the First Shot 2012™, you will
learn how to know yourself, you will learn how to know your enemy, and
you will know what to do. But will you do what this book shows you to do?
After reading They Fired the First Shot 2012™, you will not be able to keep
yourself from following the directives contained within. You will read and
learn many new thoughts and truths that will have an atomic bomb effect on
your thinking. What you abided by before is not what you will continue to
abide by.
They Fired the First Shot 2012™ is not just another book telling you what is
going on. It is the only book that is a complete book, showing you the first
step to the last step of what to do to protect yourself, your family and save
our nation. As you set out upon the path this book will lead you on —
prepare to be stunned, then shocked; prepare to feel helpless, then hopeless, moved to the edge of despair, then seeing a turn-around that maybe there's a way out, growing hopeful, to full confidence, to feeling the impulse to begin formulating your own personal plan and finally, taking action that grows into a full-scale reaction of having your future placed back into your own hands again. This book will become your cause — to act, to spread, to promote, with all your effort, with all your being — to save our nation. It is the solution that no one else has.
Most importantly, do not look through this book. It must unfold for you
starting at page one, reading page by page. If there ever was a read not to
peek through, this is it. You will ruin the impact of the book in how you will
graduate from page to page in understanding the next page. Do not even
look at the chapter titles in the beginning. Just start reading…from page one.
---