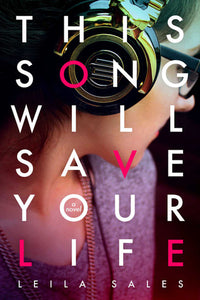 This Song Will Save Your Life (Used Book) - Leila Sales
Making friends has never been Elise Dembowski's strong suit. All throughout her life, she's been the butt of every joke and the outsider in every conversation. When a final attempt at popularity fails, Elise nearly gives up. Then she stumbles upon a warehouse party where she meets Vicky, a girl in a band who accepts her; Char, a cute, yet mysterious disc jockey; Pippa, a carefree spirit from England; and most importantly, a love for DJing.

Told in a refreshingly genuine and laugh-out-loud funny voice, This Song Will Save Your Life is an exuberant novel about identity, friendship, and the power of music to bring people together.
Hardcover
0727LO
---