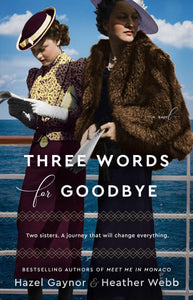 Three Words for Goodbye (Used Paperback) - Hazel Gaynor & Heather Webb
Three cities, two sisters, one chance to correct the past . . .

New York, 1937: When estranged sisters Clara and Madeleine Sommers learn their grandmother is dying, they agree to fulfill her last wish: to travel across Europe—together. They are to deliver three letters, in which Violet will say goodbye to those she hasn't seen since traveling to Europe forty years earlier; a journey inspired by famed reporter, Nellie Bly.

Clara, ever-dutiful, sees the trip as an inconvenient detour before her wedding to millionaire Charles Hancock, but it's also a chance to embrace her love of art. Budding journalist Madeleine relishes the opportunity to develop her ambitions to report on the growing threat of Hitler's Nazi party and Mussolini's control in Italy.

Constantly at odds with each other as they explore the luxurious Queen Mary, the Orient Express, and the sights of Paris and  Venice,, Clara and Madeleine wonder if they can fulfil Violet's wish, until a shocking truth about their family brings them closer together. But as they reach Vienna to deliver the final letter, old grudges threaten their reconciliation again. As political tensions rise, and Europe feels increasingly volatile, the pair are glad to head home on the Hindenburg, where fate will play its hand in the final stage of their journey.
0711ML
---