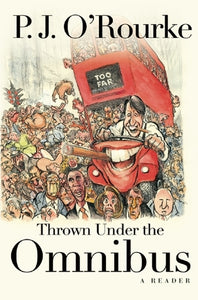 Thrown Under the Omnibus (used book) - P.J. O'Rourke
P. J. O'Rourke has had a prolific career as one of America's most celebrated humorists. But that career almost didn't happen. As he explains it, "I began to write for pay in the spring of 1970. To tell the truth I didn't even want to be a writer, I meant to be a race car driver, but I didn't have a race car."

Fortunately for us, he had to settle for writing. From his early pieces for the National Lampoon, through his classic reporting as Rolling Stone's International Affairs editor in the '80s and '90s, and his brilliant inimitable political journalism and analysis, P.J. has been entertaining and provoking readers with high-octane prose, a "pants-down Republican" attitude, and a rare ability to make readers laugh out loud. Chris Buckley once described his work as "S. J. Perelman on acid," and when Penguin published its Dictionary of Modern Humorous Quotations, P.J. had more entries than any other living writer. For the first time, Thrown Under the Omnibus brings together his funniest, most outrageous, most controversial, and most loved pieces in the definitive P.J. reader. Selected and introduced by the humorist himself, Thrown Under the Omnibus is the essential P. J. O'Rourke anthology—a must-have for any fan.
Paperback
0525WS
---