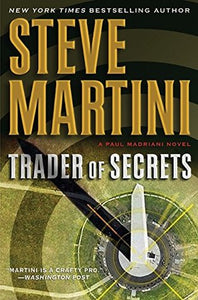 Trader of Secrets (Used Book) - Steve Martini
In California, two men argue in a parked car ... as the plot unfolds to profitably transfer secret technology into malevolent hands.

In Ohio, a young woman slips away from her protectors for a morning run -- unaware that the killer she's being protected from waits in the darkness. The woman is Sarah, daughter of defense attorney Paul Madriani. Her assailant is the vengeful assassin named Liquida.

Now Paul Madriani -- along with his companion, Joselyn Cole, and his law partner, Harry Hinds -- must venture into the vortex of international terror in search of an ice-cold killer and a trader of secrets before the ultimate weapon of mass destruction sets the world ablaze. 
Hardcover
0301SR

---