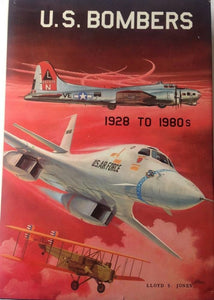 U.S. Bombers 1928 to 1980s (Used Hardcover) - Lloyd S. Jones (1980)
Published in 1980.
U.S. Bombers is a complete genealogy of the American bombardment plane from the original Keystone XB-1 of 1928, to the latest strategic bombers plying the skies today. Each of the numbered designs following the pioneer XB-1 is fully illustrated with photos and three-view general arrangement drawings. Also, the major features, including dimensions, armament, performance and development are described in this new up-dated edition. Seventy-five completely new and highly-detailed three-view drawings were created especially for this book. Many new photos have been added and one new chapter describes the color schemes used on each bomber type, a feature that will be of great value to model builders and aviation artists. An important feature of the book is the scale chart showing the relative sizes of all the planes on one page; a graphic illustration of American bomber technology for over fifty years.
Condition: Used book in Good condition, several tears on dust jacket, inscription on second page.
---