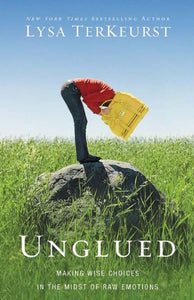 Unglued: Making Wise Choices in the Midst of Raw Emotions (Used Paperback) - Lysa TerKeurst
Do you ever feel like your emotions are working against you? Though we may find ourselves stuffing down emotions, exploding with emotions, or reacting somewhere in between, Lysa TerKeurst assures us it's possible to make our emotions work for us.

Lysa admits that she, like most women, has had experiences where others bump into her happy and she comes emotionally unglued. But the good news is, God gave us emotions to experience life, not destroy it. With gut-honest personal examples and biblical teaching, Lysa shows us how to use our emotions for good.

Unglued will equip you to:


Know with confidence how to resolve conflict in your important relationships.
Find peace in your most difficult relationships as you learn to be honest but kind when offended.
Identify what type of reactor you are and how to significantly improve your communication.
Respond with no regrets by managing your tendencies to stuff, explode, or react somewhere in between.
Gain a deep sense of calm by responding to situations out of your control without acting out of control.
---