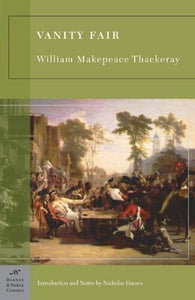 Vanity Fair (Used Book) - William Makepeach Thackeray
"I think I could be a good woman, if I had five thousand a year," observes beautiful and clever Becky Sharp, one of the wickedest—and most appealing—women in all of literature. Becky is just one of the many fascinating figures that populate William Makepeace Thackeray's novel Vanity Fair, a wonderfully satirical panorama of upper-middle-class life and manners in London at the beginning of the nineteenth century.

Scorned for her lack of money and breeding, Becky must use all her wit, charm and considerable sex appeal to escape her drab destiny as a governess. From London's ballrooms to the battlefields of Waterloo, the bewitching Becky works her wiles on a gallery of memorable characters, including her lecherous employer, Sir Pitt, his rich sister, Miss Crawley, and Pitt's dashing son, Rawdon, the first of Becky's misguided sexual entanglements.

Filled with hilarious dialogue and superb characterizations, Vanity Fair is a richly entertaining comedy that asks the reader, "Which of us is happy in this world? Which of us has his desire? or, having it, is satisfied?"

This edition includes over one hundred original illustrations by Thackeray.
Paperback
0302RM
---