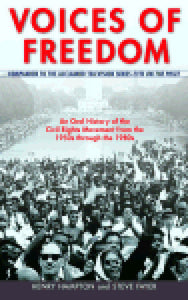 Voices of Freedom: An Oral History of the Civil Rights Movement from the 1950s through the 1980s (Used Book) - Henry Hampton
"A vast choral pageant that recounts the momentous work of the civil rights struggle."— The New York Times Book Review
 
A monumental volume drawing upon nearly one thousand interviews with civil rights activists, politicians, reporters, Justice Department officials, and others, weaving a fascinating narrative of the civil rights movement told by the people who lived it
 
Join brave and terrified youngsters walking through a jeering mob and up the steps of Central High School in Little Rock. Listen to the vivid voices of the ordinary people who manned the barricades, the laborers, the students, the housewives without whom there would have been no civil rights movements at all.
 
In this remarkable oral history, Henry Hampton, creator and executive producer of the acclaimed PBS series  Eyes on the Prize , and Steve Fayer, series writer, bring to life the country's great struggle for civil rights as no conventional narrative can. You will hear the voices of those who defied the blackjacks, who went to jail, who witnessed and policed the movement; of those who stood for and against it—voices from the heart of America.
Paperback
---