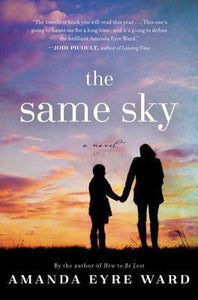 The Same Sky (Used Hardcover) - Amanda Eyre Ward
In this heartrending and poignant novel, award-winning author Amanda Eyre Ward tells the story of Alice Conroe, a forty year old Texas barbecue owner who has the perfect life, except she and her husband long for a child. Unable to conceive, she's trying desperately to adopt but her destiny is quickly altered by a young woman she's never met.

Fearless thirteen-year-old Carla Trujilio is being raised by her grandmother in Honduras along with her four year old twin brothers. Her mother is sending money home from Texas where she's trying to make a better life for her family, but she only has enough to bring one son to her. When Carla's grandmother dies, Carla decides to take her fate into her own hands and embarks on a dangerous journey across the border with Junior, the twin left behind.

Two powerful journeys intersecting at a pivotal moment in time: Alice and Carla's lives will be forever and profoundly changed. Heartbreaking, emotional, and arresting, this novel is about finding the courage to trail blaze your own path in life with faith, hope and love, no matter the struggle or the tragedy.
0419ML
---