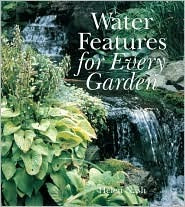 Water Features for Every Garden (Used Book) - Helen Nash
Whether the garden is formal or family-friendly, whether it consists of small containers or expansive outdoor rooms with bridges and entries, Helen Nash has the perfect water feature to suit the space and turn it into a beautiful sanctuary.
Dazzling color photos show off 18 remarkable and inspirational gardens, all in a breathtaking range of styles. Have only a small urban lot? A koi pond and a deck will fit. Do small children need a place to play? Construct a child-safe pebble pond. Longing for something lush? Grow a "tropical rainforest" in the backyard, with waterfalls and pools, and richly colorful vegetation. Or choose from a cottage garden; bird, butterfly and wildlife garden; Japanese garden; a patio courtyard complete with a pond and potted plants; and even a wheelchair-accessible design. Each one is like a little bit of paradise in your home.
Hardcover
0720LO
---